New Suns by Nisi Shawl
Started on: 2019-02-14
Finished on: 2019-02-18
Read in: English
Rating: "****-"
Genre(s): Science Fiction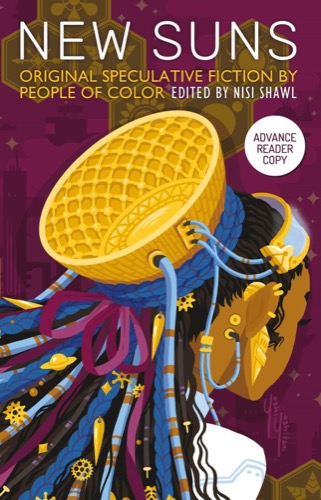 Note: I received an Advance Reading Copy of this book through NetGalley for an honest review.

Because of my love for SFF literature, I keep up with a few blogs, twitter accounts, newsletters and sites. I would have to have lived under a rock not to have been aware of the fight of women and POC (and women POC) writers to be read. I have to admit, I struggle with this a lot. Not to give them their time, but with the problem of how to select the works I read. On the one hand, I don't want to think about what and who I read. About who the writer is, where they are from, what their background is and how this is covered in the subject matter. I just want to read. On the other hand, I am aware that what I am reading, what I am noticing, what is or was winning awards went through a biased pre-selection, and that means I am missing out on good stuff. While I find it hard to comit to a reading strategy prefering women, POC, LGTBQ or non-English writers (I just want to read what I want to read) I do aim to be aware of "the other" writers, to broaden my (white, western but feminine) viewpoint.

Anyway, long story short, I do like to read works, especially science fiction, from different viewpoints, and an anthology like New Suns; Original Speculative Fiction by Poeple of Color, edited by Nisi Shawl, makes finding them no issue at all. In this anthology 17 original new stories are collected, alle written by people of color.

Overall it was refreshing to read stories that were based in different settings. Even when reading speculative fiction, settings can be very white/Western-based (or seem that way, through my own white Western glasses). However, several stories in this anthology have a distinctly different starting point, and it took me a while to get comfortable. Which is exactly the reason anthologies like this should exist, so it succeeded there. The stories are truely speculative, ranging from future/near-future SF like "The Galactic Tourist Industrial Complex" by Tobias Buckell (which also shows NYC as a sort of third world tourist destination for Aliens that are clearly more well-off than anybody on earth) and "Dumb House" by Andrea Hairston (about resisting smart technology in your life, something we should already be considering IMHO). Some are more fantasy/gotic like, like "Kelsey and the Burdened Breath" by Darcie Little Badger (about spirits) and "The Freedom of the Shifting Sea" by Jaymee Goh (about a seacreature and her loves). Some are more re-imagined history and fairy tales, such as "Burn the Ships" by Alberto Yáñez (about the arrival/presence of non-natives (called Dawncomers) to the lands of the natives of middle-America) and "Three Variations on a Theme of Imperial Attire by E. Lily Yu (a great retelling of the emperor's new clothes, and one that hits close to home too).

My favorite story was "The Freedom of the Shifting Sea" by Jaymee Goh, because the way she has imagined a seacreature (or is it traditional Malaysian? To my shame I don't know) that is truely different from us. It is not a human with a tail, it is inhuman in every way. Very refreshing and interesting to read.

All in all this collection is a very well balanced collection, that introduced me to a lot of new (to me) POC writers, and I highly recommend it to all lovers of spec-fic out there! Four stars.