The Photographer of Mauthausen by Salva Rubio and Pedro J. Colombo and Aintzane Landa
Started on: 2018-08-30
Finished on: 2018-08-31
Read in: English
Rating: "*****"
Genre(s): History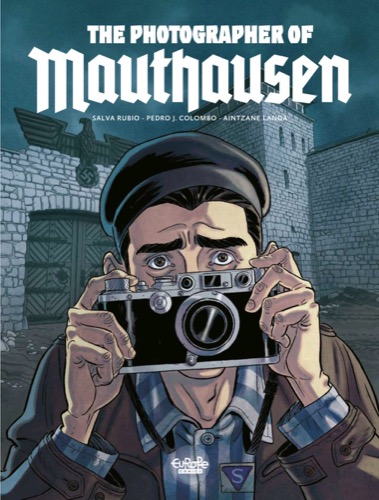 Note: I received an Advance Reading Copy of this book through NetGalley for an honest review.

I love history. I think it's important to know where we come from, to know who we are, to prevent the same mistakes and appreciate how far we've come. My favorite period are the Early Middle Ages, but our recent history is more important to our current situation. World War 2 is an important part of this of course, me being from The Netherlands. This isn't a fun subject, but I feel it is important to keep repeating what happened, to never downplay the horrific actions of the Nazis.

I found the graphic novel "The Photographer of Mauthausen" on NetGalley and I couldn't resist. I had heard of this man before, but never knew the details. This novel follows the time Francisco Boix, a Spanish communist exiled in France and captured by the Germans spent interred in the Mauthausen Concentration camp. It shows his journey to the camp, his job as translator, his job working as an assistant to SS Hauptscharführer Paul Ricken who liked to take "artful" photos of the dead prisoners. Boix and the other Spanish communist prisoners steal and hide 20.000 negatives of these practices, to send to Russia for anti-Nazi propaganda. At the end of the war, when Boix is free from Mauthausen he is dismayed to learn that nobody is really interested in these photographs or his story for that matter. He takes it upon himself to testify at the Nuremberg trials, but wonders what more death will actually solve.

Just the story (by Salvia Rubio) itself is impressive and sometimes tough to read, even sitting safe and free on my sofa in a once occupied country, even 75-ish year later. Because of the art by Pedro J. Colombo the story has even more impact. While it is hard to attach a rating to a story and work like this, I give it 5 out of 5 stars. I think this is a very good way to tell this story and shows the horrors in a way that is hard to ignore.