Hemelstrand by John Ajvide Lindqvist
Started on: 2018-03-10
Finished on: 2018-03-15
Read in: Dutch
Rating: "****-"
Genre(s): Horror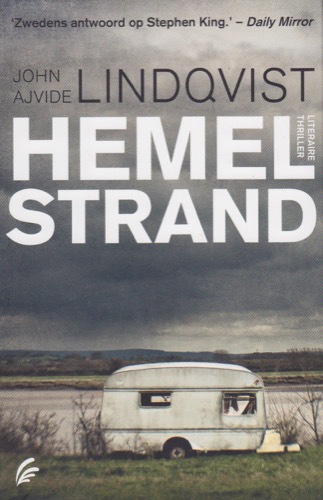 John Ajvide Lindqvist is one of my favorite writers, ever since I picked up Let the Right One In a few years ago. While I am not a real fan of horror (I am a wuss), what I love about his works is that he examines the human reaction to a weird or horrific fact.

Unfortunately, Lindqvist writes in his native Swedish, and my Swedish is non-existent. So, I have to wait for his works to be translated, and that has led to me owning/reading his works in English, Dutch and even German. This one, Hemelstrand (I Am Behind You/Himmelstrand) I found in Dutch.

Hemelstrand is about four families out caravanning, who wake up one morning and find themselves alone in a field. There is nothing around them, the field goes on for as far as they can see. There is nothing in the sky, and they have no cell-phone reception. There is no water, no food, except what they have with them in their caravans. And they have each other. Two families (dad, mom, kid), and two couples. And a dog and a cat. Where are they? How do they get home? How did they get there? And what happens next? Pretty soon it get's gory. And weird.

This book, which as it turns out is part one of three, is a lot weirder than I remember Lindqvist's other works being. It's almost metaphysical, dealing with hell and redemption. It's pretty violent too, with something I always find tough to deal with, an evil child. I am still not quite sure I get what was happening and why, and who (if anybody) got out. It was well written, and I will pick up parts two and three if I come across them. Four out of five stars, mainly because I felt I was missing some understanding of the story in the end.