Binti by Nnedi Okorafor
Started on: 2018-02-10
Finished on: 2018-02-10
Read in: English
Rating: "****-"
Genre(s): Science Fiction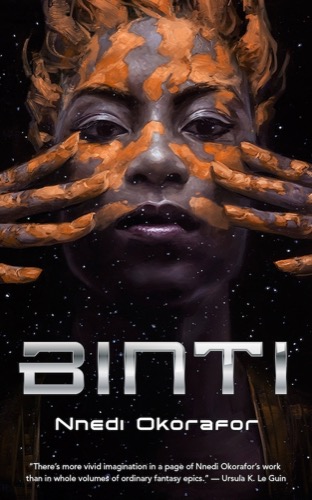 To be honest, I am just getting into reading novellas as "real" books. Somewhere deep down I find it hard to justify spending as much on a 100 page novella as a 600 page book. I figure the book gives me more bang for my buck, you know? And yet, novellas seem to be all the rage nowadays (or at least they are in my little bubble). So, slowly I am trying to broaden my horizon towards novellas and see if the hype holds up.

I have looked through the list of Hugo-nominated novellas of the past few years, and what is clear is that while in the past novellas were published in magazines, now the nominees are mostly published as stand-alone works, with the bulk of them published by tor.com. Luckily, these novellas can be picked up quite cheap on Google Play, even here in The Netherlands.

But where to start? Where else than the novella-darling of the past few years, Binti? With nominations for the Locus, BFA and BSFA award for best novella/short fiction, and wins for the Hugo, Nebula and NOMMO (award for best African speculative fiction) for the best novella, there's bound to be something there. And yet, wouldn't I be disappointed after all that hype?

Binti is the story of Binti, a Himba girl living on Earth in the future. Despite all technological advances, and despite space travel (and other worlds, and aliens) being very normal, the Himba lead a very traditional life. However, Binti wants more and she's is the first to be accepted by the prestigious intergalactic university Oomza Uni. Her departure from her family, her tribe and her homeland, and her journey towards the university aren't easy, and shape her future and the future of everyone around her.

I am happy to say that Binti did not disappoint. Nnedi Okorafor blends the traditions of Binti's home very well with the future of space travel and alien races. I love the glimpse of history we get from her edan and can't wait to read more about that. The only complaint I have is that it is so short. I think Binti would be better as a novel. Four out of five stars.