The Shining Girls by Lauren Beukes
Started on: 2013-12-16
Finished on: 2013-12-18
Read in: English
Rating: "****-"
Genre(s): Fantasy, Thriller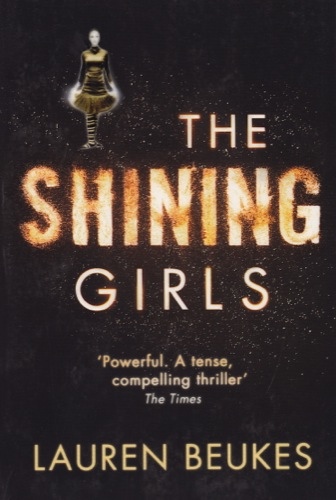 The cover and title of Lauren Beukes "The Shining Girls" reminded both of "Gone Girl" by Gillian Flynn (young female writer, book about murder) and "NOS4R2" by Joe Hill (murderer travels through time to kill his victims). When I found the book cheaply I could not resist.
In Chicago during the Great Depression, drifter Harper Curtis, fleeing Hooverville after a fight, finds a strange house. In the hallway is a dead man, presumably the owner of the house. Soon Harper figures out how to influence on to which day and year the front door of the house opens. And he discovers the bedroom, filled with trophies. The house influences him, and he soon figures out how to find the 'shining' girls, girls with a potential for life, and kill them. Only, one of those girls isn't quite so dead when he is done. And Kirby Mazrachi, that girl, won't rest until she finds her killer and stops him.
The killer in this book, Harper, is truly a nasty piece of work, and Beukes describes his kills in more and more detail, with the added 'bonus' of the attack described from Kirby's point of view. The time travel gets more and more complicated (time lines running into each other). The ending is on the one hand an explanation of what is going on and how the house works, and on the other hand it explains nothing. Suffice it to say, it is a book I kept thinking about and could not put down. Four out of five stars.