Sourcery by Terry Pratchett
Started on: 2013-12-05
Finished on: 2013-12-07
Read in: English
Rating: "****-"
Genre(s): Fantasy, Humor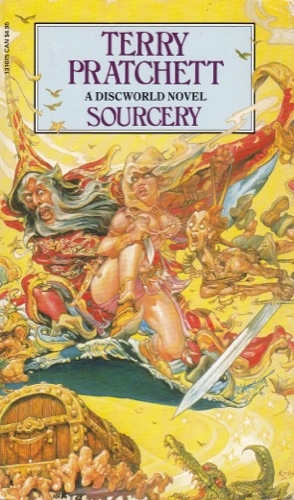 Sometimes you just need a read that is dependably funny. For me that is any Discworld book by Terry Pratchett. I'm reading (and collecting) them in publication order, and this time it was #5, Sourcery. It is the third Rincewind novel.
That Discworld has wizards is well-known. They have their own university, and are pretty harmless for the most part. They don't bother the people of Ankh-Morpok, and the people ignore them. But the eighth son of the eighth son is a wizard. And his eighth son, Coin, something unheard of in the celibate (for exactly this reason) world of wizard, is a sorcerer, a source of magic power himself. Influenced by his father he is slowly taking over Discworld, and the only one who can (but doesn't particularly want to) save the world is Rincewind, accompanied by the Luggage.
I found the Pratchett/Discworld humor that I expected, with funny references to our world and way of doing things. The absurdity of the story was exactly what I needed. A nice 'just-as-expected' Discworld novel, four out of five stars.