The Woman Who Went to Bed For a Year by Sue Townsend (FRSL)
Started on: 2013-11-25
Finished on: 2013-11-27
Read in: English
Rating: "***–"
Genre(s): General Fiction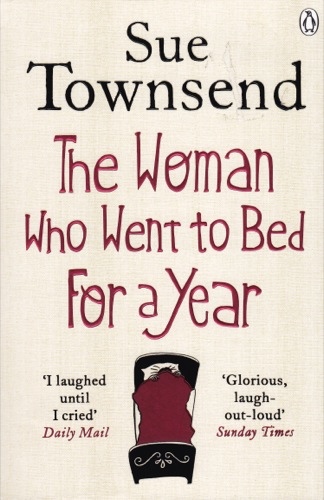 Sometimes you just want a light-hearted read. A beach novel, if I'd ever take a sunny holiday or go to the beach. 'The Woman Who Went To Bed For a Year' by Sue Townsend is such a novel, and does exactly what it says on the tin.
Eva is a fifty-year-old housewife who takes care of everything for her husband Brian (astronomer) and her twins Brian junior and Brianne (autistic and brilliant). When the twins leave home to go to university in Leeds, she decides enough is enough, and goes to bed. And doesn't come out again for a year. No more breakfast or dinner, no more cleaning, no more laundry. No more entertaining, no more doing everything Brian wants her to. She gets a support network around her of her mother, her mother-in-law and her man-with-a-van Alexander. Brian is mostly annoyed by Eva and the damage she is doing to his life. Not that he needs any help with that, because as it turns out he's been promising his other woman Titiana for eight years to leave Eva. Eva meanwhile stays in bed, hopes people feed her and tries to figure out what she wants in life, because something needs to change.
The book reminded me a lot of 'The Unlikely Pilgrimage of Harold Fry' by Rachel Joyce. Like Eva, Harold decided to give up his daily life, but he started walking. Like Eva, Harold amassed a following that saw in him a holy man but he found them mostly annoying or a hassle. Eva just wants a moment to sort things out, but it gets harder and harder, until she has alienated everyone around her, while she needs help the most. We also follow Brian and the twins, and their new 'friend' Poppy.
It is a nice quick read, nothing too deep, about someone who just wants to be appreciated and not needed so much. It doesn't make too much sense, and leaves some open ends, but for a light-hearted read, it is pretty fun. Three out of five stars.