Night of Knives by Ian C. Esslemont
Started on: 2013-11-13
Finished on: 2013-11-14
Read in: English
Rating: "****-"
Genre(s): Fantasy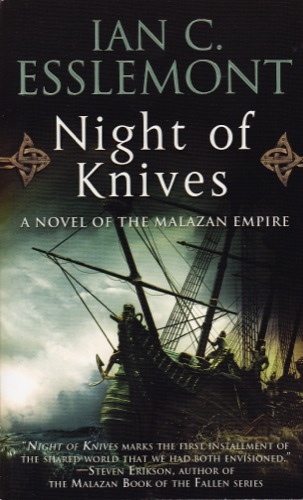 You know the feeling that after a book ends, you feel sad, because you don't want to leave the characters and the world yet? I had that after finishing 'The Crippled God', the last part in the Malazan Book of the Fallen series by Steven Erikson. I had three novella's about Bauchelain and Korbal Broach to entertain me a bit longer, but now I have no Steven Erikson works left on my shelves to read. Enter Ian C. Esslemont, Steven Erikson's friend, who, together with him, designed the world of these books. And he has written books too, taking place in that same world. So, I didn't hesitate and picked up the first one of his 'Novels of the Malazan Empire'.
According to LibraryThing this novel takes place chronologically before everything in the Malazan Book of the Fallen (including the Bauchelain novellas). It is one night in Malaz, the city that gave the empire its name. It is the night of a Shadow Moon, when the line between warren and real world is very thin. It is the night of a fight for the throne, but between whom and for what throne? Some known characters are in this novel, such as Kellanved, Dancer and Surly, and some new ones, like Kiska, a young thief who'd do anything to get out of Malaz and Temper, an old soldier who is just trying to keep his head down as guard of the Hold.
Esslemont is no Erikson. Not in plot nor in writing style. But if you keep that in mind, this is a pretty enjoyable Malaz novel, that takes you back to the world of warrens, Jaghut, magic, gods, House's etc. The fact that this is the story of one night is pretty interesting, and keeps the book short (a measly 298 pages in my mass market paperback edition). I was actually craving more, more about the warrens, more about the factions fighting in this one night. However, it was still good to be back in Malaz, and I am glad that more is still being written by both Esslemont and Erikson in this world. Four out of five stars.