De tranen van de politieman by Philip K. Dick
Started on: 2013-11-11
Finished on: 2013-11-12
Read in: Dutch
Rating: "****-"
Genre(s): Science Fiction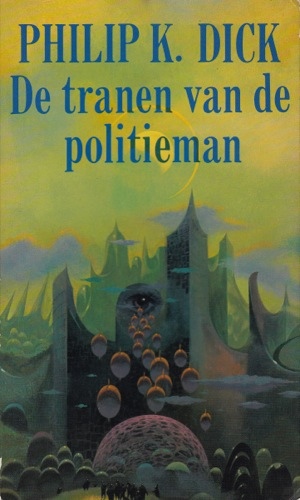 'Flow my tears, the policeman said' is only the third Philip K. Dick novel I've read, and I picked this one to read next because of the many award nominations (Nebula, Hugo, Locus), wins (Campbell) and mentions on best of lists.
There are two story lines in this novel. The main one is about Jason Taverner, a famous TV host and singer, a six (genetically engineered human) who one day (after an attack and a hospital stay) wakes up in a cheap hotel without any ID. In the dystopian future (1988, but the novel is from 1974) this is as good as a death sentence. He goes out to try to get himself some fake ID and figure out what is going on. Soon he finds out that not only is his ID missing, he isn't present in any databank, and no one of his old friends and colleagues seem to even know about him. This causes him to eventually run into Police General Felix Buckman, main character in the second storyline about him, his life, his sister and how he does his best to survive in the police state that is the US after the Second Civil War.
I really liked this novel. I really was curious about what the solution to Jason's predicament was, especially when he found out more and more weird things going on. And I loved the philosophical discussions about love and grief. The only thing that let me down was the quick ending. After a long, slow build up, where Dick takes the time for Felix and Jason to meet people and discuss life and what is going on, the story is quickly wrapped up in the last thirty or so pages, with a solution that is hardly explained or investigated. The epilogue, which is basically a summary of what happened to the characters after the story, felt unnecessary too. It reminded me of the epilogue you sometimes get in movies (in text, detailing the rest of the lives of the characters). Maybe this was something that was done more often back in the seventies, but I felt the novel did not need it. Still, this is a very good science fiction novel, four out of five stars.