The Garden of Evening Mists by Tan Twan Eng
Started on: 2013-11-04
Finished on: 2013-11-05
Read in: English
Rating: "*****"
Genre(s): General Fiction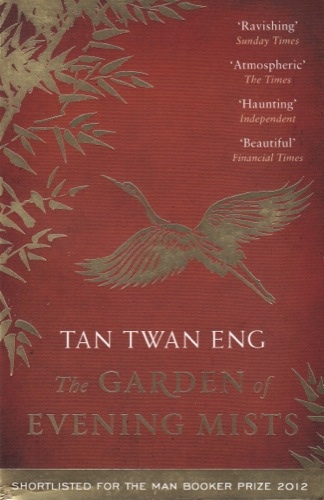 With all the science fiction, fantasy and horror I've read, it was time for something a bit more normal. So, my friends at LibraryThing and my Excel of book lists and awards recommended 'The Garden of Evening Mists' to me. I was drawn to it partly because of the Japanese gardening in it.
The story is told by Yun Ling Teoh, a judge in Malaysia who is retiring and writing down her life story. We see three periods in her life, in World War II when she, together with her sister is captured and held in a Japanese internment camp, after the war as an apprentice to former gardener of the Japanese Emperor Nakamuro Aritomo to build her sister the Japanese garden she always wanted, and now, when as an old woman she has returned to the garden after many years.
Despite the terrible things that happened to Yun Ling Teoh and Malaysia during and after the war, the story in the book is wonderful. About how she learned to deal with her anger and loss, about the survival during hard times by her, her South African tea-plantation owning friend and Aritomo, a Japanese man living in Malaysia. It takes her all her life to make sense of it, but the beautiful thing is, she does in the end. It just is a lovely book to read, beautifully written and with gorgeous descriptions of both the garden and Malaysia. Five out of five stars.