Prinsen van Amber by Roger Zelazny
Started on: 2013-10-19
Finished on: 2013-10-20
Read in: Dutch
Rating: "***–"
Genre(s): Fantasy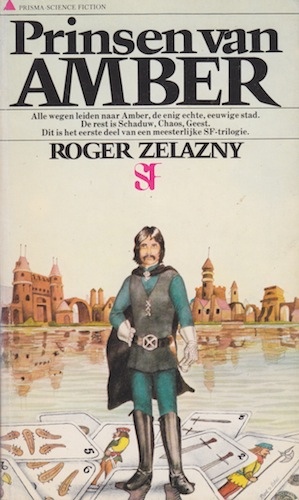 In 'Among Others' by Jo Walton, Mori, the main character, is pretty excited about the Amber chronicles by Roger Zelazny. Because I already had the first chronicles on my To Be Read pile (mountain), I figured I'd better read them.
Carl Corey wakes up in a medical clinic (in the US, present day) and while he has lost his memory, he figures out he shouldn't be there and escapes. He soon arrives at his sister's house, and while hiding his amnesia, finds out he is a member of a family of not-humans who can travel to another world called Amber. In fact, Amber is the original world, and he and his family can travel to Shadow's, worlds all just a bit different from Amber. Our Earth is such a world. He also discovers card, like tarot cards, of the members of his family. Those cards enable him to contact them, and to travel to them through the cards. In this book Corey, who is actually Corwin, gets his memory back, and starts fighting his brother Eric for the throne of Amber. Along the way he discovers just what has happened while he was away, who is allied with whom, and what he is fighting for.
I liked the story, but even though the parts were all released separately, I am sure they are better in one volume. The idea of Amber and Shadow worlds is a very good one, and I like the rest of the world mechanics that Zelazny created. On the other hand, the story somehow felt rushed, like he wanted to use all elements in a story, but only had about 190 pages to do it. Not brilliant but entertaining, three out of five stars.