Rivers of London by Ben Aaronovitch
Started on: 2013-08-12
Finished on: 2013-08-13
Read in: English
Rating: "*****"
Genre(s): Fantasy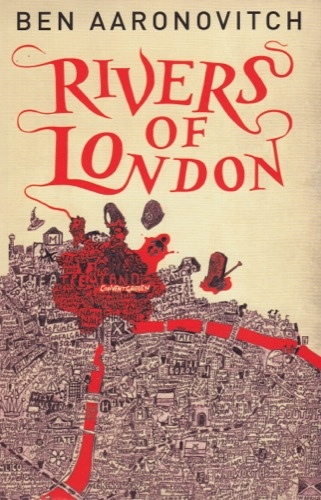 I can always count on my LibraryThing friends to make great recommendations based on what they know I like. That's how 'Rivers of London' was recommended to me, and because I trust them so much, I immediately bought the first three parts in the series (on sale). Luckily for me (and my wallet) they sure weren't wrong, I loved this first book in the series so much that I skipped the books I had lined up to read next to immediately dive into part two.
Imagine a world where there is magic, there are ghosts, and spirits, and vampires. But people don't know this, and go about there lives like everything is alright, even though this other world can be dangerous to them. You know, like Harry Potter. But this book is in no way like Harry Potter, except in its addictiveness.
The main character is Peter Grant, a police officer in London. At the end of his two years probation he is working at the site of a grisly beheading. When his friend and fellow officer Leslie steps away for coffee, Peter meets a ghost. He isn't as surprised or scared as I would be, and that, combined with the fact that he can see the ghost, prompts Detective Chief Inspector Nightingale to recruit him into his special branch of the Met that deals with other worldly threats to the Queen's peace. Quickly Peter must learn about magic, spirits, vestigia and the past. This helps him in his race against the clock to solve the case, save London, save Leslie, and help to reestablish the peace in the rivers of London.
Like I said earlier, I loved this book very much. Peter is a character that is smart, wants to solve the case, and trying his best to accept all he is learning about as normal. But sometimes it gets to be too much, and that is also good, because who wouldn't be overwhelmed. He is a hero I like, one that is easily distracted but at the same time focussed on his goal of saving the good guys and catching the bad ones. Ben Aaronovitch, the author, has created a great version of the world and of London (a world on its own), one that makes me love London even more. Five out of five stars, and straight on to Moon over Soho for me.