NOS4R2 by Joe Hill and Joe Hillstrom King
Started on: 2013-06-30
Finished on: 2013-07-03
Read in: English
Rating: "****-"
Genre(s): Horror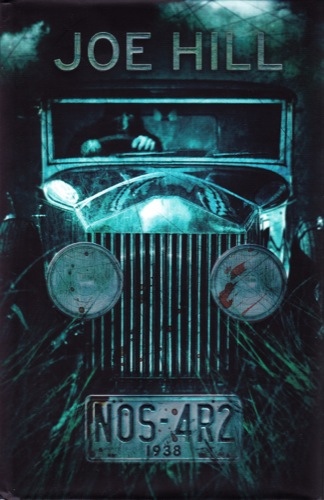 Note: I received a free copy of this book through Team Gollancz Geeks.

In the past few months I have read a lot about Joe Hill's new novel, NOS4R2 (or NOS4A2, the original title). Even though I like novels with a supernatural element, and horror stories, I shy away from psychological horror. Books have given me nightmares, and that goes a bit too far for me. So when most reviews said that NOS4R2 gets in your head, is truly scary, causes nightmares even, I decided that this book was probably a bit too much for me. But then I was offered the opportunity to review NOS4R2 for Team Gollancz Geeks and I couldn't resist. I am glad to say that I have no regrets.
Vic McQueen is a girl whose parents are fighting about a lost bracelet. To get away from the fight she gets on her bike and rides away, thinking about the missing bracelet. She finds herself at the creepy old covered bridge nearby, a bridge she is not allowed on because it is ready to collapse. She goes on it anyway, and on the other end finds… the restaurant they were at earlier that day? When she goes inside, the man behind the counter assumes she is there to retrieve the missing bracelet, and this is how Vic learns that she can use the bridge, the Shorter Way, to find things. However, each journey costs her, something she finds out pretty soon.
When she is seventeen she finds the bridge again after a fight with her mother. She goes looking for trouble, and finds it in the person of Charles Manx, a man with a similar power. However, he uses his to 'save' children from a horrible future, by using his car to take them away to Christmasland. NOS4R2 is the license plate of the thirties Rolls Royce Phantom or Wraith, owned by Charles Manx.
Even though Vic escapes, she is forever changed and haunted by what she has experiences. When she later has a son and Manx returns, it takes everything she has and knows to fight him to get her son back and to try to destroy Manx forever.
Like I said before, this is not my usual genre, and I was afraid to even read this book. But I was so wrong. Hill draws you into the story so well. Even though the scenes were sometimes pretty gruesome, as were the images he presents (oh those children), I couldn't put the book down because I needed to know the answer to the mystery, and the outcome of this battle. I really liked how real his characters seemed, with flaws and all. This is no 'magic makes life wonderful' book, no, magic has a real and terrible price. But love and a feeling of right and wrong is strong. Never did the book feel too long, it was just right to build up the character of Vic and lead to the final battle. I was pleasantly surprised by this book, and will certainly read more by Joe Hill in the future. I give it four out of five stars.