De wespenfabriek by Iain Banks
Started on: 2013-05-26
Finished on: 2013-05-26
Read in: Dutch
Rating: "****-"
Genre(s): General Fiction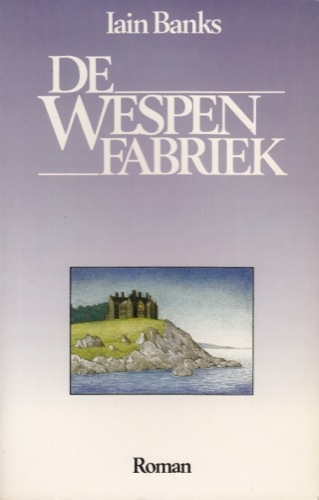 Iain Banks, or actually Iain M. Banks is one of my all time favorite writers. I am addicted to his Culture series and try to save his books, so I don't read them all at once. And now that I am running out of his science fiction works, I am turning to his 'regular' fiction works.

The Wasp Factory/De Wespenfabriek is the story of Frank, a boy of 16 living in a big house on an island with his father. He doesn't seem to be all there, spending his time with rituals of totem poles and animal torture. He doesn't have much contact with other people, because his father never registered him (so he never went to school and doesn't officially live there) and because he is pretty awkward around others, especially girls. This is because of an accident that happened to Frank in his younger years that at first we know nothing about. Slowly Frank tells us everything while the story leads to the climax of his escaped (from the insane asylum) brother coming home.

The story is gruesome, not only because of what Frank does to the animals and people around him, but also because of the detached non-emotional way he describes these actions. Then again, because everything is told from Frank's perspective, you kind of understand why he does these things. The climax was unexpected (for me), although you know that the secret at the heart of the story is pretty awful. Impressive book, four out of five stars.