The Light Fantastic by Terry Pratchett
Started on: 2013-04-23
Finished on: 2013-04-26
Read in: English
Rating: "****-"
Genre(s): Fantasy, Humor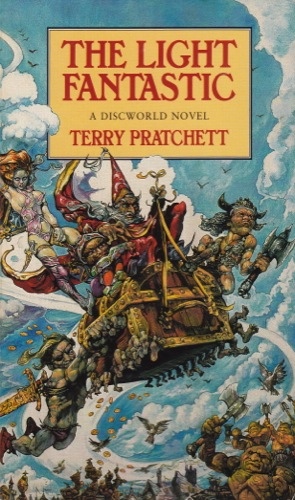 A long while ago, I tried Terry Pratchett's Discworld series, picking up the first book I found (Monstrous Regiment) and didn't like it. But so many people are raving about this series (people who seem to like the same stuff I do) so I needed to give it another shot. I decided to start from the beginning, collecting and reading the books in publication order. I read "The Colour of Magic" last year, and a few weeks ago, I finally found the second book, "The Light Fantastic" second-hand.

In this book we continue travelling with Rincewind, Twoflower, and his Luggage which follows him around. This time around disaster seems to be ready to strike Discworld, and everybody wants Rincewind, or more exactly, the Spell in his head. What follows is a good story with the famous Pratchett humor and a lot of adventure.

I liked the book, because I like Pratchett's humor. It is pretty dry, and if you don't like it, forget this book and forget this series. For those who liked the first book, try this second one too. I give it four out of five stars.