De poorten van het dodenhuis by Steven Erikson
Started on: 2013-02-28
Finished on: 2013-03-12
Read in: Dutch
Rating: "*****"
Genre(s): Fantasy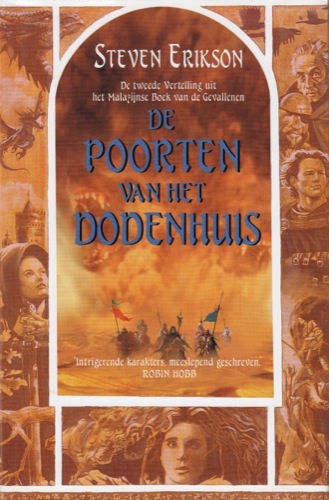 After reading Gardens of the Moon I was gripped by the Malazan Book of the Fallen. I couldn't wait to start book two, and when I did, I couldn't put it down. This book continues on from book one, but barely deals with any of the old characters. We get to travel with Kalam and Fiddler, but most other characters are new or had a minor role in the first book.
Most of this book takes place at the Seven Cities, where the apocalypse called the Whirlwind is unchained and all Malazan armies and citizens are attacked by the native tribes of the continent. Part of the book follows the flow of refugees and soldiers to the last remaining Malaz city on the continent, Aran. We also follow Kalam and Fiddler on their journey to lead Sorry/Apsalar back home to her village. And of course, some new characters are introduced as well.
This book was just as gripping and fast paced as the last one. Like before, Erikson hardly explains anything, instead it is expected of you as a reader to figure out what is going on and how the world works on your own. Sometimes this meant that I didn't understand all that was going on, however I caught on a little later in the story. He makes the world he has created in this series even bigger, with more aspects of magic and more history thrown in. I for one can't wait to read more, and I am glad I found a nice second-hand copy of the third book in the series, Memories of Ice so I can keep on reading. Five out of five stars.