Ragnarok byDame A. S. Byatt
Started on: 2013-02-26
Finished on: 2013-02-28
Read in: English
Rating: "****-"
Genre(s): Fantasy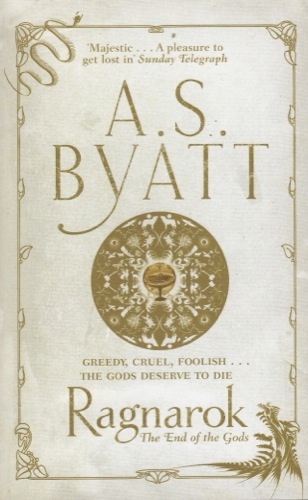 When I heard about the Canongate Myths series where famous writers (like Margaret Atwood, Philip Pullman and Ali Smith) re-imagine famous myths, I was intrigued. A while back I read Philip Pullman's The good man Jesus and the scoundrel Christ and liked it, so when I saw A. S. Byatt's Ragnarok for sale in the local secondhand-book-shop, I immediately picked it up.
Ragnarok is the story of the Norse gods, interwoven with the story of a little girl from the city living in the English countryside during the war. She is given a book of stories of the Norse mythology, and this work is in part a retelling of those stories, and the story of the little girl relating to those stories.
The work is short, but very good. I liked how it didn't only tell the stories of the Norse gods, but also of someone trying to make sense of them, someone trying to give them a place in her upturned life. This book is a little gem and highly recommended not only to lovers of mythology, but also to those who love great stories in general. Four out of five stars.