The Girl Who Circumnavigated Fairyland in a Ship of Her Own Making by Catherynne M. Valente
Started on: 2012-10-30
Finished on: 2012-11-09
Read in: English
Rating: "****-"
Genre(s): Fantasy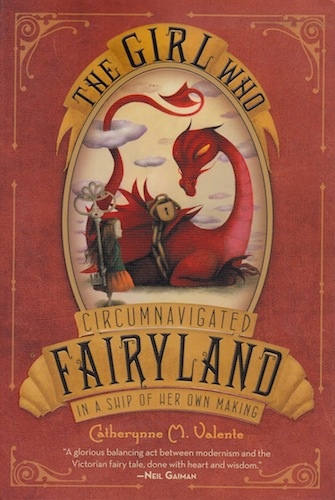 I was in the mood for a light read, and was recommended this book several times on LibraryThing. This is a fairytale, but a pretty modern one.
It is the story of September, a girl living with her parents (father is a soldier off to war, mother a mechanic for airplanes). One day, when she is quite bored with doing the dishes, the Green Wind comes by her window with his leopard, and asks if she wants to come with him. They travel to fairyland, where the Green Wind is not allowed, so he and his leopard leave September on her own. She becomes part of a great adventure, to save her friends and to make things better in fairyland by trying to figure out and maybe get rid of the seemingly evil Marques.
This is a real fairytale, with monsters, fairies, magic food, witches, things being a bit different from earth and real danger. September has a wonderful adventure, and grows up in the process. The narrator lets us in on some secrets September doesn't know yet, and helps to explain this particular fairyland. The writing flows very well, but works best on long reading stretches, it is not a book to pick up and read while waiting in line or for the train. Very enjoyable to read, and probably to read out loud to children. Four out of five stars.