The lurker at the threshold by H. P. Lovecraft and August William Derleth
Started on: 2012-08-23
Finished on: 2012-08-25
Read in: English
Rating: "****-"
Genre(s): Horror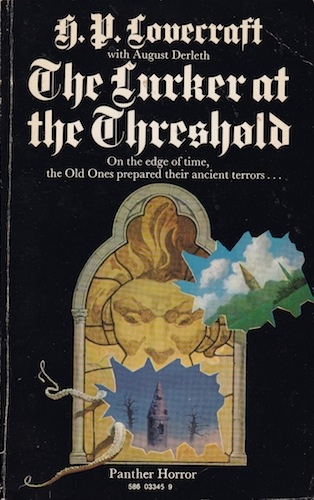 You can't really be on the internet, and miss the influence H. P. Lovecraft has on the shared conscious. Cthulu is being referenced everywhere, from being woken by Gangham Style or being crafted into a cut amigurumi. So, anytime I find a Lovecraft novel cheap, I pick it up, familiarizing myself with the mythos. This is one of those books, although the main writer seems to be August Derleth, Lovecraft's publishing partner at Arkham House, for me it is still a nice addition to my reading of the Cthulhu Mythos.
It is the story of a long abandoned house, a returning heir doing it up, and strange sounds and stories. Ambrose Dewart is the man who is intrigued by the house of his ancestors, and cannot help but ignore the warnings telling him to not disturb anything. When he investigates the strange history of the earlier inhabitants, his ancestors, and the house itself, he is drawn into a horrific repeating history.
The story was a pretty quick read, which I enjoyed very much. It is another small chapter dealing with the Elder Gods, and I cannot wait to read more about them. Four out of five stars.