The Surgeon of Crowthorne by Simon Winchester
Started on: 2012-07-10
Finished on: 2012-07-11
Read in: English
Rating: "****-"
Genre(s): History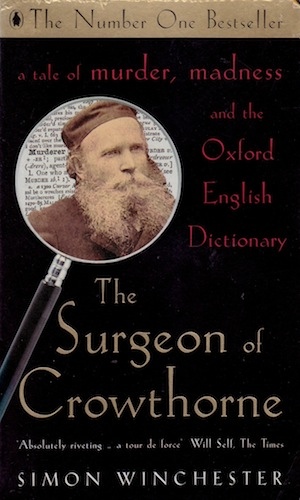 This is my 67th book of the year, and up until now, they have all been fiction books. But the thing is, I love non-fiction, I just have to put a bit more energy into reading them. So, last year I picked a couple of Simon Winchester's books (Atlantic and The Surgeon of Crowthorne) while looking for his book Krakatoa (which I didn't find). I just finished The Surgeon of Crowthorne (known in the US as The Professor and the Madman), and enjoyed it very much.
This is the story of Dr. W.C. Minor, an American surgeon and Sir James Murray, editor of the Oxford English Dictionary, and the creation of that great work. The book is based on a few facts. Minor was one of the most prolific contributors to the OED, and he was in correspondence with Murray for years, all the while being locked up in Broadmoor for murdering a man and being insane. Step by step Winchester dissects the story, by diving into the life stories of Minor and Murray, into Minor's insanity, into care for patients with mental disorders in Victorian times, into the history of dictionaries, into the history of the OED etc. In each chapter he explores an element in detail, placing it in its time and place and explaining all he can about it.
And that's what I really liked about this book. Anytime some fact came by which I would want to know more about, Winchester explained and elaborated upon it. This did make the book a bit hard to follow sometimes, you are jumping from time period to time period and subject to subject, but when reading it in (nearly) one go, it is the best way to have it presented to you. Four out of five stars.