Alias Grace by Margaret Atwood
Started on: 2012-04-19
Finished on: 2012-04-24
Read in: English
Rating: "****-"
Genre(s): Historical Fiction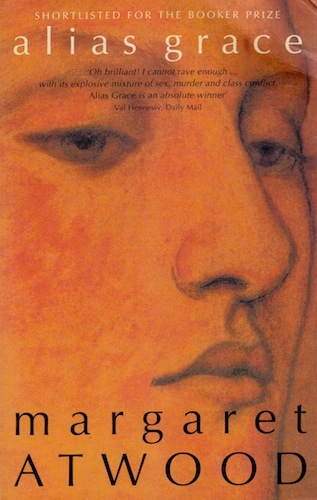 I was first introduced to Margaret Atwood when I read 'The Handmaid's Tale' a couple of years ago. This is of course a science fiction like dystopian novel, as are two of her other books I have read since ('Oryx & Crake' and 'Year of the Flood'). I have read some 'regular' (or more regular) fiction since, but somehow I like those dystopian novels best, and I am always a bit reluctant to read her other works. But now I think I need to get over that, because I have just read Alias Grace, a historical fiction work, and I loved it.
Alias Grace is the story of Grace Marks, a Canadian girl who was convicted of murder in Canada in 1843. We meet Grace in Kingston Penitentiary. She is trusted up to a certain point by the Governor of the prison, and is allowed to work as a maid in his home. One day a doctor arrives, Simon Jordan, who is sent to investigate Grace, her mental health and her supposed innocence with regards to the murder. The story is the story told by Grace to Simon, and Simon's life in Kingston. All through the novel you are left wondering how this nice girl, who seems so quiet, can have done what she is convicted of.
I loved this story, the questions it raises with Simon, and with us, the readers. Because Grace sounds so nice when she is describing her life, I was automatically sympathetic to her innocence, however later parts in the book made me doubt it more and more. I liked the way Atwood brought this all to a conclusion. Another aspect of this book that I loved was the language. The voice really changed between the narrator, Grace, Simon and the other characters. And to me, the language felt nineteenth century to me. It was also refreshing to have a book set in Canada instead of the US and UK like most books I read. I couldn't put this book down, and give it four out of five stars.