The Book of Summers by Emylia Hall
Started on: 2012-04-17
Finished on: 2012-04-19
Read in: English
Rating: "****-"
Genre(s): General Fiction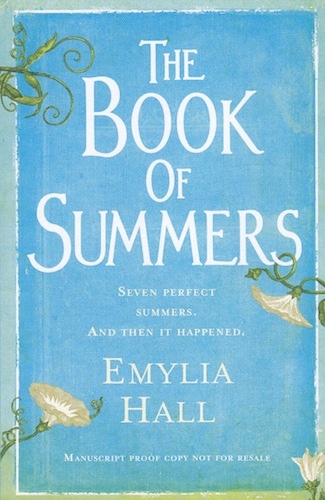 Note: I received an Advance Reading Copy of this book through the You Review program of The American Book Centre.

'The Book of Summers' is the first book by Emylia Hall, the story of Beth/Erszi getting to grips with her past and her family history because of the unexpected arrival of a parcel from Hungary.

Beth is living in London, working in a gallery, and hardly has a relationship with her father. So when he wants to come and visit her, she is curious to know why. When he comes, he gives her a parcel, which has been sent to his house, from Hungary. This causes a bit of drama because their agreement is that everything that comes from Hungary is ignored. But she can't help herself, so Beth opens the parcel and discovers The Book of Summers, a scrapbook of the seven summers she spent in Hungary from when she was ten years old. This scrapbook forces her to remember these summers, and what happened the last summer she spent there. This event, which is not revealed until nearly the end of the book, is what caused the total silence of Beth and her father on the subject of Hungary and who lives there. The scrapbook, and the news that comes with it, makes Beth look at the events of her teenage years differently, with new appreciation for why her family did what they did.

For me, it is hard to decide what I think about the book, because I feel differently about the story than the writing. Let's start with the negative, the writing. Especially in the beginning of the book, I was very distracted by the descriptive writing. It felt like the writer was trying too hard to describe everything, even things that I thought was unnecessary for the story, to evoke a mood. It felt forced. It seemed that every scene that was set had something in it that made Beth (even the young Beth) think something very profound. For me, this felt unreal, especially with the younger Beth. But, when I got used to the writing style and the tempo of the story, I got sucked into it. Actually, after a few chapters, I liked the slow pace, one summer a chapter. It emphasized how Beth lived for those summers, making the climax that more dramatic. I was very curious about what the big event that changed everything would be. I was shocked when I read that part, and for me, it was the 'right' event, the 'right' climax of the story. The story made sense to me then, and that's when I loved it instead of just liking it. As far as ratings go, I am giving it a four out of five stars.