The Midwich Cuckoos by John Wyndham
Started on: 2012-03-05
Finished on: 2012-03-05
Read in: English
Rating: "****-"
Genre(s): Science Fiction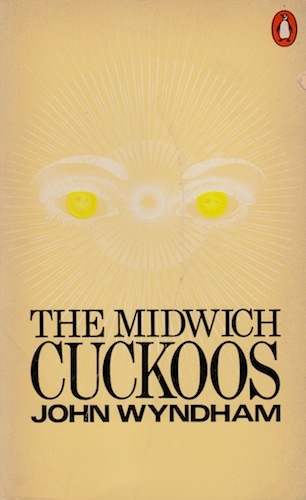 Another John Wyndham book, one I had never heard of before. But it is considered something of a classic, as is clear by its inclusion in the 1001-books-you-must-read-before-you-die list. It has been filmed as the Village of the Damned, of which I recognize the screens, but have never seen.
The book is about the English village of Midwich, which, on a September evening, is enclosed by a dome. Everybody in the dome, or who enters the dome, falls asleep, and nobody wakes before the dome is lifted. Soon after the dome is lifted, all women who were under the dome find out that they are pregnant. Nine months later, the babies are born.
Like the previous Wyndham book I read (The Kraken Wakes) the story is told by an outside observer, not a scientist and not somebody who is going through it himself. In this case it is Richard, a man who has lived in Midwich with his wife for only a year, and who was in London when the event happened. Because of that his wife is not affected, and he is just telling us what he sees and hears. Other characters are Gordon Zellaby, a well-to-do (aristocratic?) writer who lives in the town mansion, and the rest of the villagers. The book covers the event, the birth of the children, and nine years later, when the children are grown and exhibiting more and more of their strange abilities.
I really liked this book. I liked the story, reminding me of modern stories (most notably Under the Dome), and the dilemma the children ultimately pose to the villagers. I like the humor of the narrator and Wyndham. I like the calm and reasonable observations of Richard. And I like the ending, inevitable and clean. Four out of five stars.