Slan by A. E. Van Vogt
Started on: 2012-02-21
Finished on: 2012-02-22
Read in: English
Rating: "****-"
Genre(s): Science Fiction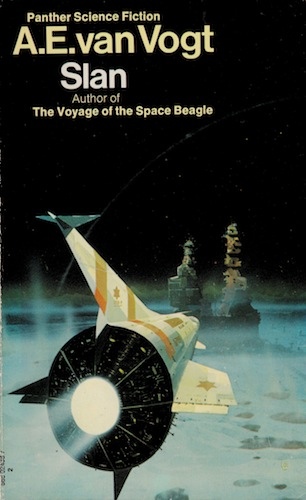 This is one of the classics of science fiction, first published in 1946 (1940 serialized), written by A.E. van Vogt. It is the story of Jommy Cros, a Slan boy of nine years old. The Slan are more than human, have two hearts, tendrils on their heads and are telepathic. They are viciously hunted down by humans, who feel threatened by the slans. They think that the Slans want to take over the world, as they have tried this in the past. The story starts when Jommy's mother is killed, and he is left to hide until he is fifteen and can carry out his secret mission, given to him by his already murdered father. Meanwhile we also follow Kathleen, another young slan kept prisoner by a human dictator.
During his long mission, which stretches out nearly ten years, Jommy learns a lot about the history of humans and slans and tries to bring the two closer together.
Even though the book is pretty short, it packs in a lot of adventure and ideas. The ending was pretty unexpected and ties everything wonderfully together. A classic that holds up pretty well even nearly 70 years after first being written. Four out five stars.