Jamrach's Menagerie by Carol Birch
Started on: 2012-02-20
Finished on: 2012-02-21
Read in: English
Rating: "****-"
Genre(s): General Fiction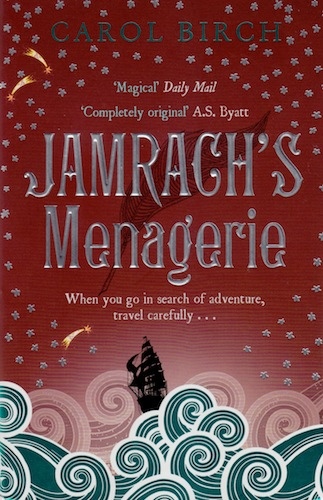 Every year I wait very impatiently for the Man Booker Prize short list. I use this list as a guideline to get myself to read more 'normal' fiction instead of science fiction, fantasy or adventure books. I might not be attracted to all of the books on the list, and I have no need to read them all for completion, but every year I pick some. And how nice it was last year that the prize was awarded just as we were vacationing in England, so all short list books were on sale. I picked up some, including this one, Jamrach's Menagerie by Carol Birch.
This is the story of and told by Jaff, a poor boy growing up in Victorian London. When he was eight he met a tiger in the street, and instead of being scared, he touched its nose. The tiger picked him up, and Jaff was freed by Mr. Jamrach and survived. This changed his life so much that he calls the events his second birth. Soon he starts work for Mr. Jamrach, who owns a pet store. He sells not only the usual, but any animal his clients want, he has or gets, including elephants, crocodiles and tigers. Jaff meets Tim there, a boy with whom he has a love/hate relationship, and Tim's sister Ishbell. Years later Tim is selected to go with one of Jamrach's collectors on a journey to find a dragon in Indonesia (a Komodo Dragon it later turns out), and Jaff finds a way to join them. Most of the book is the adventurous and tragic story of that journey.
The story itself moves pretty fast, and there is never a dull moment. The stuff that happens is sometimes pretty horrifying, but never does it feel unreal. Especially the ending makes it a book of the twenty-first century, a realistic continuation of the story in stead of a "and they live happily every after"-type ending. I really liked the writing and the story, even more now that I found out that Mr. Jamrach was real and so was the incident of the boy and the tiger. Four out of five stars.