De gekrompene by Richard Matheson
Started on: 2012-02-07
Finished on: 2012-02-07
Read in: Dutch
Rating: "****-"
Genre(s): Science Fiction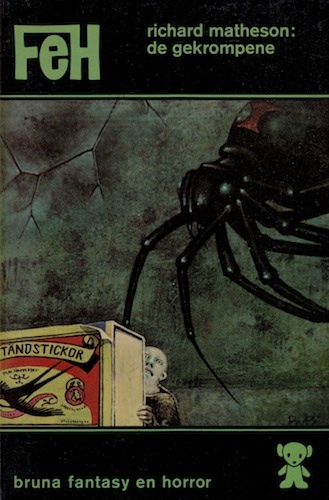 A classic science fiction/horror story about a man who shrinks one seventh of an inch a day, an inch a week.
Scott is out on a boat with his brother, when a strange mist passes over him (his brother is below deck). From that moment he notices that he is becoming smaller every day, shrinking. The book is a description both of the last week of shrinking, the final inch, while Scott is trapped in the basement and trying to survive in an ever growing world, and flashbacks about the last year and a half. He was happily married to Louise with a daughter, Beth. They had just moved so Scott could get a better job, money was and is tight. And then this happened.
Scott is the focus of the story, it is about how he deals with what is happening to him, and what it does to the relationships he has with those around him. I thought this was a very good book, very 'realistic' in the emotions Scott experienced. I liked how the 'why' of the shrinking wasn't as important as the 'what now'. And the ending was nice, even if it was a tat unrealistic (yeah, even after 200+ pages of a man slowly shrinking). Four out of five stars.