The Kraken Wakes by John Wyndham
Started on: 2012-01-31
Finished on: 2012-02-01
Read in: English
Rating: "*****"
Genre(s): Science Fiction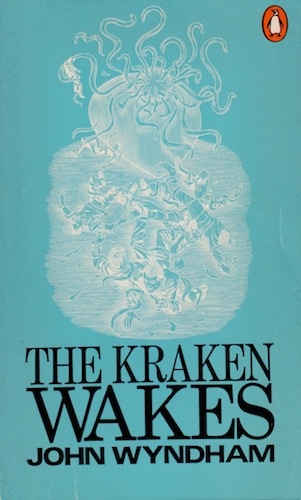 At the end of last year I read John Wyndham's famous book, The Day of the Triffids. When I saw this book by him I was initially attracted to it because he wrote it. When I saw the title, and the picture of the Kraken on it, I couldn't resist. I am a sucker for books about the Kraken.
Phyllis and Mike Watson are a young couple working for the broadcasting company EBC (not BBC), writing radio scripts. The book is Mike's account of what has happened the last few years and how the world has changed. It all started on their honeymoon, when they were cruising and one night saw fast flying red orbs descent into the ocean. They made a report, but not much was made of it. Mike and Phyllis keep track of news of the red orbs, and anything else that might be connected. Soon ships start disappearing over deep stretches of ocean, and research into what is happening is violently stopped. Something is living in the Deep. Something smart, something that is attacking humankind. Slowly but surely, the threat grows, and humanity is at a loss what to do.
This book was published in 1953 and takes place in those years. The Cold War was on, so the paranoia and propaganda both from and against the Russians is a part of this story. Other than that it is a chronological account of the slow realization of humanity that they might not be the smartest species on the planet anymore. I really liked this book, I couldn't put it down. I loved the story, the slow discovery of Mike and Phyllis of what is happening, and Mike taking me as the reader along on the discovery. I loved the bantering between Mike and Phyllis, the dry humor, but also how real they were, how they sometimes get so desperate they can't do it anymore. The book reminded me a lot of The Swarm by Frank Schätzing, also a book about strange creatures in the deep keeping humanity out of the ocean. I enjoyed both books, and I give this one a five out of five stars.