Crusader Gold by David Gibbins
Started on: 2012-01-25
Finished on: 2012-01-30
Read in: English
Rating: "****-"
Genre(s): Historical Adventure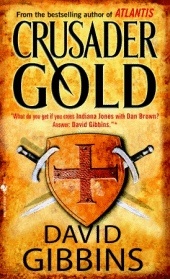 When The Da Vinci Code came out I loved it, the combination of history and adventure, and the major "what-if" at the heart of the story. Ever since them it seems to be a genre on its own, all following a similar formula. Most of them aren't brilliant in their writing and storyline, and the history is sketchy at best. But most of them are good fun to read, so I always have some in my to-be-read pile to enjoy. One of these books is this one.
I don't want to give away too much of the story, so I'll try to give some key players and subjects that are part of this story. The historical figure at the centre of it all is Harald Hardrada and his Vikings. Locations are Istanbul, Hereford, Iona, Greenland and more. As with the first book featuring Jack Howard, diving and underwater archeology are major in this story.
The story itself is a strange balance between action and explanation. Even though I liked the theory, I would have liked more adventure. I have the feeling I can describe the adventure in less than a page, while the theory could be an essay of its own. But, I can't complain too much, I enjoyed this book and the theory was pretty original to me. Four out of five stars.