Queen Victoria: Demon Hunter by A. E. Moorat
Started on: 2012-01-19
Finished on: 2012-01-22
Read in: English
Rating: "****-"
Genre(s): Horror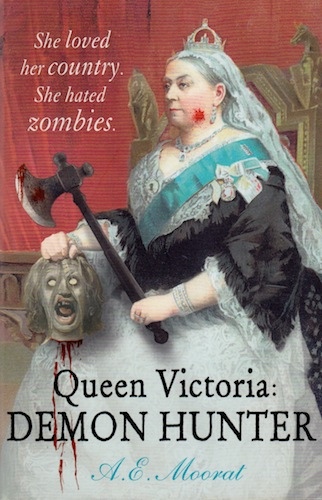 Ever since Pride, Prejudice and Zombies was released a couple of years ago, many books in the [standard work] + [horror element] formula were released. We have Sense, Sensibility and Sea-monsters, Android Karenina, Abraham Lincoln: Vampire Hunter and many more. I have enjoyed every book in this genre, they are just good fun to read. So when I found Queen Victoria: Demon Hunter with this great cover for a couple of euros I just couldn't resist.
This book tells the story of Queen Victoria, from just before her becoming queen, to just after the birth of her second child. It stays true to most facts of her life, such as the strained relationship between her and her mother on account of her mother's comptroller, Sir John Conroy. Other real people who appear are of course Prince Albert, Lord Melbourne, King Leopold, Baroness Lehzen and Lady Hastings. However, everything is seen in a whole new light with the addition of demons walking the earth, and the descendants of Baal trying to gain power to rule the world.
A. E. Moorat does a really good job weaving in the demons with history. An example is the scandal of Lady Flora Hastings, who was allegedly pregnant with Sir John Conroy's baby. In reality it turned out to be liver cancer, in the book… something else. Queen Victoria kicks ass and is everything as powerful, ethical and royal as I expected (and wanted) her to be. All in all a very fun read, very well done. Four out of five stars.