Miss Peregrine's Home For Peculiar Children by Ransom Riggs
Started on: 2012-01-18
Finished on: 2012-01-19
Read in: English
Rating: "****-"
Genre(s): Fantasy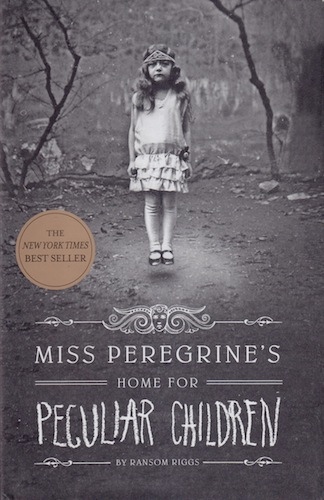 Ever since I saw this book, and saw the beautiful pictures in it, I just had to have it. I couldn't find it anywhere during our trip to England last year, so when I was ordering some books online I just had to include this book. Just looking at it is great. A gorgeous hardcover, red under the slipcover, filled with gorgeous page-filling old black-and-white photographs that are just a bit eerie. All it is missing is a reading ribbon.
It is the story of Jacob. He loves his grandfather, Abe, who tells amazing stories about the orphanage in Wales where he lived in his youth, just before World War II. He shows Jacob photographs of the amazing children he lived with, children who are peculiar. A girl that floats. An invisible boy. A strong girl. And many more. Jacob enjoys the stories until he grows too old to believe them. But when his grandfather suddenly dies, and Jacob is dealing with the loss, Jacob goes to Wales to find out the truth about his grandfather's past. And his life, and how he sees the world, is never the same again.
Like the previous books I just read, this book is written as a part one of a series, and it shows. It introduces us to this version of earth where peculiar children live. There is a big adventure, but it ends on a cliffhanger. But, all in all, that is the only downside to this wonderful book. The characters, especially the children, are great and magical. The world created is (at least to me) original to me. I cannot wait for the next part, and I hope it will be as beautiful as this one. Four out of five stars.