Old Man's War by John Scalzi
Started on: 2012-01-17
Finished on: 2012-01-18
Read in: English
Rating: "****-"
Genre(s): Science Fiction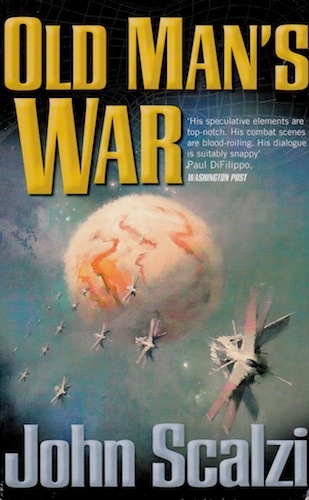 Another classic (yet not very old) science fiction story, pretty fast paced and full of speculative science about space travel.
John Perry is 75 years old. His wife has died, and he does what many 75-year-olds do in the USA in the future; he sign up for the army. No regular army though, the Colonial Defense Forces, those forces that protect the human colonists out in space, who only take senior-citizens as recruits. Nobody knows what happens when they leave, all they know is that they are dead to earth, and they assume that their bodies will be fixed up, otherwise, why would take on old people with all their pains and aches? When John arrives in space he finds out what they really do, and what he really signed up for.
The story moves pretty fast, covering some essential scenes told by John Perry himself. Through his stories we learn about the earth as it is in the future. About human colonization in space. About medical and technical advances. About aliens, and about future warfare. It never goes really in depth, and maybe some parts could have been longer, but it is a really fun read, very nice science fiction. Four out of five stars.