The Book of Lost Things by John Connolly
Started on: 2012-01-03
Finished on: 2012-01-05
Read in: English
Rating: "***–"
Genre(s): Fantasy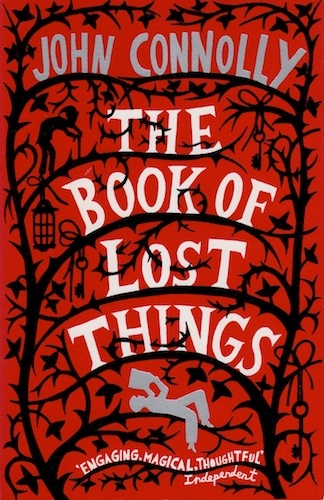 I was attracted to this book by the beautiful cover of paper cut-outs. It is the story of a boy who loses his mother and loses himself in his books, all during World War II. It takes inspiration from a lot of other books, which is why it was a bit disappointing.
David, living in 1930s London, loses his mother to an unidentified sickness, leading to a slow death. His father does the best he can to take care of David. David loses himself in the books he and his mother read together, fairy tales. Meanwhile, his father enters a relationship with Rose, a hospice nurse he met while his wife was there. They marry, and get a baby, and the family moves out of London to a big old house in the country. David doesn't know what to do with his feelings of loss, and what to think of Rose and Georgie, his new brother. He starts hearing his books talk, and hears about Rose's lost uncle, who went missing and was never heard from again. He sees The Crooked Man in his world, in his bedroom and garden, and after a big fight, he follows him through a hole in a garden wall, into the other world. A world where fairy tales are grotesquely real.
The whole story sounds pretty familiar, The Chronicles of Narnia immediately spring to mind. Other fantasy/fairy tale standards also are present, the most obvious being the journey through the Other World in which David grows from a boy to a man. The reviews say it is a pretty uneven book, childish/childlike in some parts, and adult and dark in others. This is true, and maybe that is why I am not quite sure what to think. I want to like it, but I have read much better books… Three out of five stars.