De Triffids komen by John Wyndham
Started on: 2011-12-24
Finished on: 2011-12-25
Read in: Dutch
Rating: "*****"
Genre(s): Science Fiction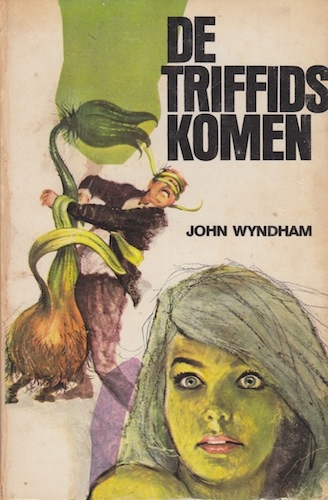 I don't know how, or from where, but the title "The Day of the Triffids" (or De Triffids komen in the Dutch version) has always (in my memory) been familiar to me. I have never seen the film, and had never read the book, so when I saw this book in a second hand bookshop I picked it up.
It's the seventies, and in a hospital Bill wakes up to a strange day. He has bandages across his eyes, due to an accident the week before, but he can hear something is wrong. He hears no traffic, no people, only screams now and then. When he investigates he finds that everybody who has seen the spectacular green meteor shower the night before has woken up blind. The rest of the story is the story of how Bill and a few others try to come to grips with what has happened, and try to survive. And the Triffids? They are plants, or plant-like, that have appeared a few years before, that are more than just your average invasive species, even more so after the blindness has struck.
For such an old book (first published in 1951, pretty old for a sci-fi novel) it seemed pretty modern to me. For me it reminded me of The Road, Oryx and Crake, and of The Passage, both stories of people trying to survive in a very bleak dystopian future. The story was very good, and seemed very realistic too. Like all older novels it was pretty short (my version was 256 pages), for me it could have been as massive as The Passage, but it was still very good. What else can I say, for lovers of dystopian novels, this is a must read. Five out of five stars.