The Devil and Sherlock Holmes by David Grann
Started on: 2011-10-28
Finished on: 2011-10-30
Read in: English
Rating: "***–"
Genre(s): History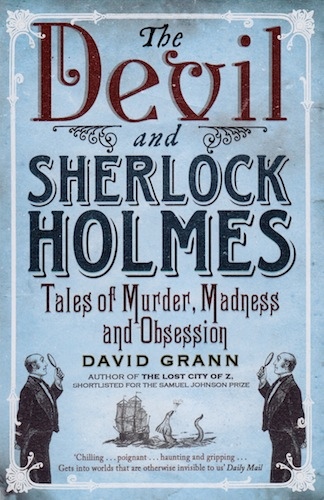 I know David Grann from his wonderful book The Lost City of Z, where he tells us about the adventurer Col. Percy Fawcett who tries to find the city in the Amazon rain forest. I really loved that book, so when I discovered this book I couldn't help but pick it up. This book is very different in both subject matter and set up. This is an essay collection, most published before in the New Yorker or Atlantic, about various topics. The common thread in most stories is crime, either discussing the criminal or the crime itself.
Examples of stories are the suspicious murder of a Sherlock Holmes fanatic, after he tried to block the auction of papers previously owned and written by Sir Arthur Conan Doyle, the strange situation of a war criminal living in New York in between the people he helped displace, an old criminal who just can't help himself and many others. In all stories there is something not quite ordinary, and David Grann wants to know what it is. He carefully tries to show all sides of the story, interviewing the criminal, prosecutor and victims, sometimes following them for long periods.
The stories were all very interesting, and I like Grann's writing. He really takes you along on his journey. I did like The Lost City of Z better, maybe because it was only about one thing, and there he described the story from his time and his point of view, and from the point of view of Fawcett. Here it is all his point of view. Still, it is an entertaining and interesting read, all about subjects I knew nothing about.