The Sisters Brothers by Patrick deWitt
Started on: 2011-10-11
Finished on: 2011-10-12
Read in: English
Rating: "****-"
Genre(s): General Fiction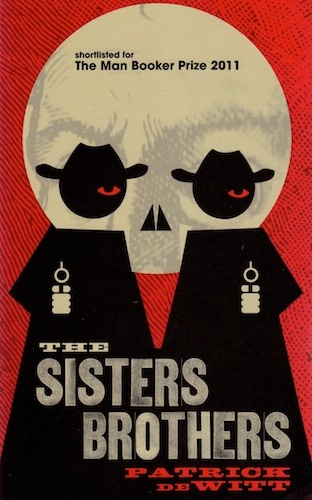 Out of all the short-listed novels nominated for the Booker Prize this year, I think that The Sisters Brothers has the most beautiful cover. Very simple, and yet so much more when you keep looking at it.
This is the story of Eli and Charlie Sisters, brothers living in the 1850s in the United States. They work for the Commodore as assassins, killing those who supposedly wronged him. The story, told by Eli, is the story of their latest job, to kill Hermann Kermit Warm. To do this, they travel from Oregon to California, getting into trouble along the way, and experiencing a bit of the gold rush.
The story is many things at once. It is mainly the story of how Eli experiences his life as a killer. He doesn't want to be one, but he looks up to his brother Charlie, and he does have a temper-problem. The experiences themselves are pretty funny and also very touching most of the time, I could see how they would work in a movie. The transition from drunk Charlie stumbling to ruthless killers without regard for human life was pretty sudden (and graphic), but it worked for me. And most of all, I loved Eli, his voice seemed very real, the way he describes his internal struggles and his outlook on life. I am not a reader of western novels (nor do I watch westerns) so I had no preconceived notions of what this book should have been to fit into the genre, for me this was just a nice story that happened to take place in the US in the 1850s.