A Visit from the Goon Squad by Jennifer Egan
Started on: 2011-10-04
Finished on: 2011-10-05
Read in: English
Rating: "****-"
Genre(s): General Fiction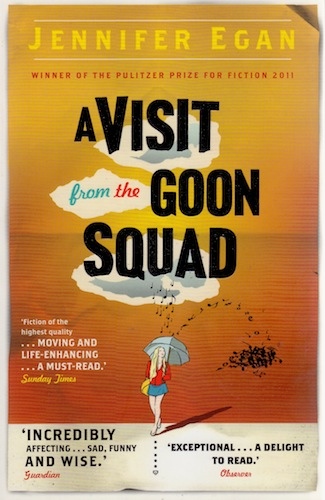 From the description on the back of this book, it's not quite clear what it is about. About interacting lives, ebbing and flowing fortunes, wild youth, growing up. And yet that is exactly the description that fits this book.
Because this is not one flowing story, with a main character, a start, a climax, an ending. Instead the thirteen chapters are thirteen little stories by themselves, each covering or told by a different person. Yet together they form a bigger picture, because characters keep meeting each other, running into each other, influencing each other.
This does make it a bit difficult to keep the bigger picture in your head. Chapters don't follow each other chronologically (the total time span is a good 50 years I would say), and it takes a bit to figure out the main character of each chapter and who those other people were again. But in the end this is a very enjoyable book about all those themes described above, and for once I did enjoy that the writer tells me how a character will end up in the future, because that is the whole point of this story. And extra kudos for the presentation slide chapter, very original and fitting for that character. Four out of five stars.