The Night Circus by Erin Morgenstern
Started on: 2011-09-20
Finished on: 2011-10-03
Read in: English
Rating: "*****"
Genre(s): Fantasy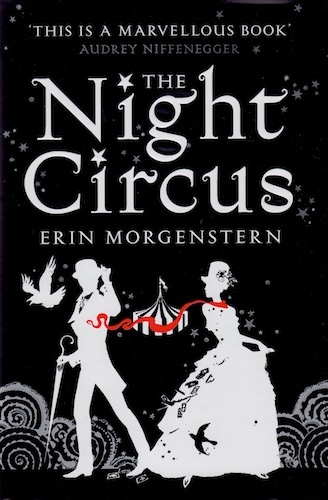 When I was buying books in England, this book was very hot. I even saw a display in an independent bookshop saying that the owner would sell this book for £3.00 less than the list price, just because she loved the book so much and wanted it to do well. On LibraryThing it is the same, it seems a lot of people are either reading or gushing over it. And it's worth it.

This is the story of Marco and Celia, two young people living not quite so extraordinary lives in the late nineteenth century. They live in a world where magic is real, though hidden. It is also the story of the Night Circus, a circus out of the ordinary that appears suddenly, is only open between dusk and dawn, and where visitors can wander around and pick and choose which tents to visit and experience. And it is the story of Bailey, a boy enchanted by the circus.

I am really struggling to write a review without spoiling the magic of the book, and the winding of the story. The book is wonderful, it is not only a good story of love, magic, battle and winning over fate, but it has a whole magic mood around it, making you lose yourself in the book. Great for a rainy sunday afternoon. I really recommend this book to anyone enjoying a bit of magic in their stories. Five out of five stars.