Mythago Wood by Robert Holdstock
Started on: 2011-07-21
Finished on: 2011-07-23
Read in: English
Rating: "****-"
Genre(s): Fantasy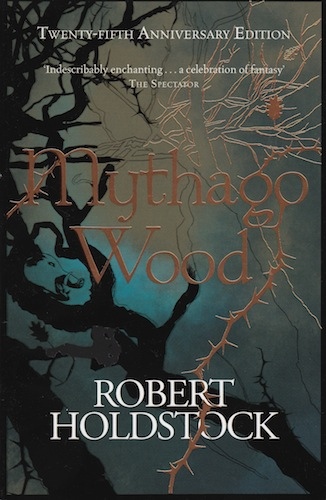 I found this book in one of the boxes of ABC's books per kilo sale, not knowing the book or the writer at all. The fact that this was a twenty-fifth anniversary edition promised something good.
And it was. This is the story of a small but ancient forest in England. Strange things happen and over time the research into the forest consumes Steven and Christian's father. When Steven returns from France after WWII, his brother is also drawn to the forest, to one day enter and never to return. And the strange things happen to Steven though, culminating in an epic journey.
The book has some very interesting theories about myths,the reasons they are with us and how they survive, all while creating and living it's own myth.
The story took some time to get started, but at the end I felt the last page came too soon. I believe that there are more books that follow on this one, I hope to find them. Four out of five stars.