To Kill a Mockingbird by Harper Lee
Started on: 2011-07-12
Finished on: 2011-07-13
Read in: English
Rating: "****-"
Genre(s): General Fiction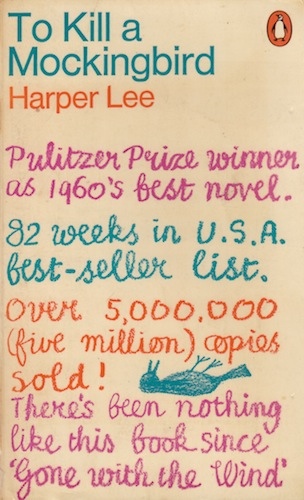 This is one of the classics of twentieth century literature, and anything I write in my review probably has been said many times before. I think I have read this book before, ten years ago for English class, and I might have even seen the movie, but because I could hardly remember it I decided to read it again when I got a copy for myself.
This is the famous story as told by Scout, a young girl growing up in the South of the USA in the nineteen thirties. Her father is a lawyer, her mother passed away. She and brother Jem, who is four years older than she is, spend their summers playing and exploring, and the rest of the year in school. The novel is about how they grow up, and discover the world is not as perfect as it appeared, and people are not as nice to each other as you would innocently expect. The main event in the book is the court case her father is involved in, where he is defending an African-American man who has been (falsely) accused of raping a white girl from an extremely poor family. Another main story line deals with Scout and Jem's fascination for Boo Radley, their neighbor who never leaves the house and hardly anyone has seen in decades.
The writing is great. While the story is told from the perspective of a young child, you hardly miss anything that is going on, even though Scout might not yet understand it. This also makes the impact of the story greater, you really feel for Scout and Jem, they are so innocent and believe in the good, and you don't want their illusion shattered. I remember liking the book before, and I really liked it again a second time around.