The Name of the Wind by Patrick Rothfuss
Started on: 2011-04-26
Finished on: 2011-04-27
Read in: English
Rating: "*****"
Genre(s): Fantasy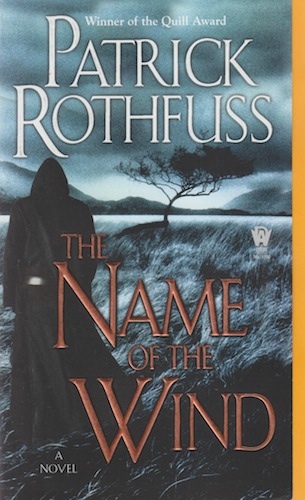 (Nederlandse versie uit de bibliotheek gelezen)

I have to admit, I had never heard of this book or writer before the comic by Greg Dean last March, where he is incredibly excited for the sequel to The Name of the Wind, The Wise Man's Fear. After that I noticed that a lot of people on LibraryThing also seemed to be very excited about the sequel, and figured, the first part must have been quite good.
And it was, oh yeah, the book was brilliant. It is the story of Kote the innkeeper, who tells his life story. His life as Kvothe, everyone's hero, the one about who fantastic heroic tales are told. Once and for all, he will tell us the true story, which is different, but no less heroic. The world this is set in is a fantasy world, with beasts, demons, magic and history. But that is not the point of the tale. You are so focussed on Kvothe that whatever strange things go on, what it does to Kvothe is more important than what it is. Not that the fantasy element isn't great, it is, and it is done real well.
All in all, the book is all good. The story is great, the world is great, the writing is great. The only fault I have is that this is part one of a trilogy. Part two just came out, and now I have to find it, and then wait for part three.