The Swarm by Frank Schätzing
Started on: 2011-04-15
Finished on: 2011-04-21
Read in: English
Rating: "****-"
Genre(s): Science Fiction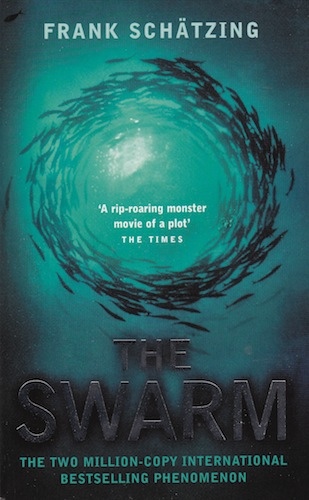 After getting a recommendation for this book from one of my friends I saw it was also on the 1001 books you must have read before you die list. Two good recommendations made me put it on my wishlist, and I wasn't disappointed.
Worldwide, scientists start noticing strange things happening with the sea and its creatures. Whales don't act the way they used too, new creatures are discovered, and slowly mankind realizes something in the sea is out to get them. Without giving too much away, mankind is put in their place.
The book is quite hefty, describing the catastrophes in the first 450 pages, and the race to discover what is happening and the fight back in the second. I liked the first half better, because of the mystery and (despite the disasters) peaceful tone. In the second half the governments and armies get involved, with their own agenda's. The book (written by a German) paints a pretty stereotypical picture of Americans which is a bit annoying and two dimensional. Schätzing also explains a lot of scientific fact and history in the course of the book, trying to make the horror sound as real as possible. I really liked that, because it made it much easier to understand and much more real. Some of the side stories with the main characters might not have been necessary for the plot, but they gave a bit of color to the book, making sure not everything is doom and gloom. The ending was a bit too quick, not entirely satisfactory, I am left wondering what happened after the book, but maybe that is better left to a writer who likes to write dystopian stories.