Bone Complete Edition by Jeff Smith
Started on: 2010-11-17
Finished on: 2010-12-04
Read in: English
Rating: "*****"
Genre(s): Graphical Novel, Comic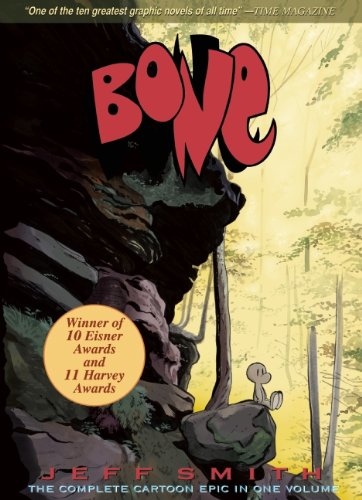 In my effort to read more graphic novels/comics I couldn't pass by a cute character like Bone by Jeff Smith. The complete edition is a hefty epic of 1300+ pages, but so worth it.
We follow the three Bone cousins (who are bones from Boneville) as they are run out of town and discover a new valley where they meet Thorn and her grandma. They are involved with a war that in the end will determine the fate of the earth.
The drawings are great, and so is the storyline and the whole mythology behind it all. I love Fone Bone, and the Red Dragon. And of course the gorgeous Roque Jah. I give this complete edition five out of five stars.