Sense and Sensibility and Sea Monsters by Jane Austen and Ben H. Winters
Started on: 2010-11-18
Finished on: 2010-11-23
Read in: English
Rating: "***–"
Genre(s): Horror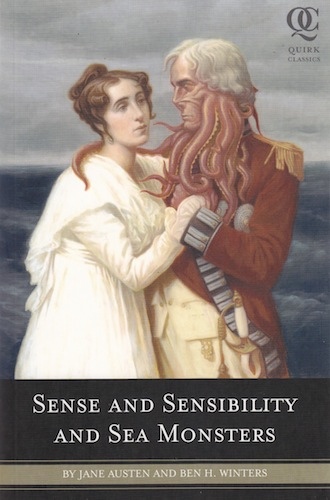 This is another book in the classic/horror mashup genre. Previously I have read the ones based on Pride and Prejudice infused with zombies and really liked them for the good mix between the humor of Jane Austen and the absurd horror of zombies. That is the reason I figured I would like this one as well.
This book is based on Sense and Sensibility, which isn't a Jane Austen book I really enjoyed. A bit too long with too much of a soap series feel. And the infusion with sea monsters didn't help it one bit.
In the book, all water life has become hostile to mankind. We are still in England in the nineteenth century, but with some steampunk, such as a underwater domed city where the families spend winter. I felt the horror part and the original story weren't really mixed well but existed next to each other. A bit disappointing and perhaps better as a stand alone story about sea monsters. There out of five stars.