Year of Wonders by Geraldine Brooks
Started on: 2010-10-25
Finished on: 2010-10-27
Read in: English
Rating: "***–"
Genre(s): Historical Fiction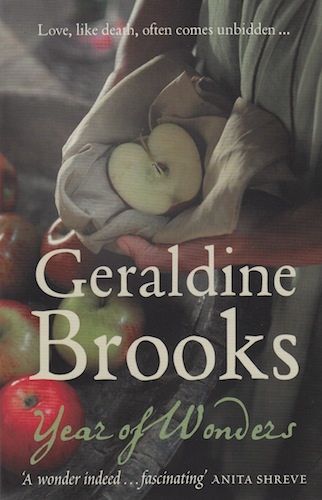 I read my first book by Geraldine Brooks (People of the Book) earlier this year and wanted to read more by her. I knew this book would be very different as it takes place entirely in 1665⁄1666 instead of in a few more modern time periods.
The subject matter (and thus most of the book) is pretty depressing, as it is about the spread of the bubonic plague in a small English village. The book is written from the viewpoint of Anna, who tells us about the self imposed quarantine and the year of plague in the village (based upon the history of Eyam). The book is pretty depressing as there is nothing they can do against the spread of the illness and death and the wickedness and false beliefs of the villagers.
It was pretty tough to read as not much good seemed to be happening. But these are the harsh realities of life during the plague. I was reminded of a passage from one of Ken Follet's medieval historical fiction novels where he describes how the main character is in a city in Italy, falls ill and when he comes out of his delirium a week or so later half the city is dead. This really drives home the impact such a massive pandemic must have had not just on the economics of the world, but also on personal lives of people.
On the book itself: the main part was good, if not depressing and slightly unbelievable (somehow the people that matter do not get sick while spending most time with those afflicted). And the conclusion and epilogue seem to be coming from an entirely different story as all of a sudden there is action, and a new happy ending. Unnecessary and unrealistic.